Virgin of Kevelaer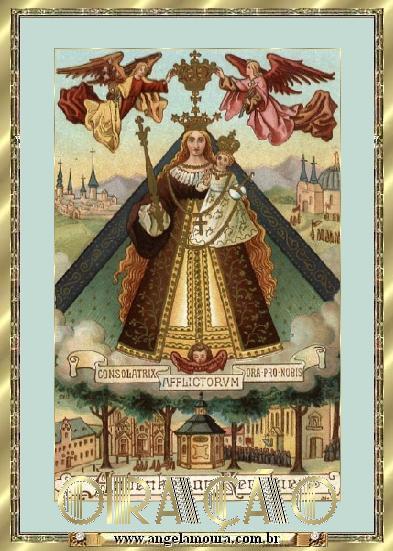 Just like 350 years ago, today the Virgin of Kevelaer is still revered
as a consolatrix afflictorum, the consoler of the afflicted.
Our Lady,
Comforter of the Afflicted
O most Holy Virgin,
who is genuinely called
'Consoler of the Afflicted',
obtain for me from Jesus Christ your Son,
the grace never to lose heart
in the day of trouble,
and to seek no comfort but
in Jesus and yourself.
Grant that I may ever have confidence
in your maternal heart pierced
with the sword of sorrow,
and that i may find there my true
and only consolation.
Amen

Nuestra Señora,
Confortador de los Afligimos
O más Virgen Santa,
que es llamada auténticamente
'el Consolador de los Afligimos',
obtenga para mí de Jesús Christo su Hijo,
la gracia nunca para perder el corazón
por el día de problema, y
para no buscar el consuelo
pero en Jesús y usted.
La Concesión que yo puedo
tener la confianza en la vida
en su corazón maternal agujereó
con la espada de dolor,
y ese i puede encontrar mi verdadero
y único consuelo allí.
Amen.

Voltar